Photographer Information
Credentials for the sideline photographers will be issued on the basis of circulation, with priority granted to agencies covering the Armada FC on a regular basis.
All photographers must pick up orange vests necessary for admittance to the sideline area at the media entrance to Community First Park at the Baseball Grounds of Jacksonville. All photographers' vests must be returned within a half hour after the match ends. Failure to do so will result in potentially being denied future credentials to Armada FC matches. Signing out the vest constitutes acceptance of this policy.
The media entrance is located off E. Adams Street through a set of gray double-doors.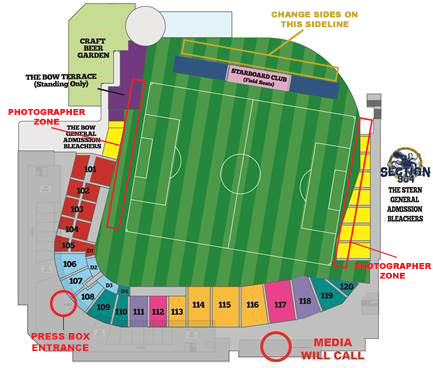 All members of the media will have to provide photo identification to obtain their credential from media will call. Team rosters also will be available for photographers at that time, while those wishing to obtain a flip card or game program must pick one up in the working press level (Level 3) of the press box. The press lounge area has been set aside as a work space for photographers to transmit during and after the match. Photographers are permitted to shoot behind each end line but are not permitted to shoot from either sideline at any time during the match. Photographers can use the sideline opposite of team benches to switch end lines if necessary. Failure to adhere to this policy will result in removal from the stadium and confiscation of credential.