Credential Information
Credential Requests
All requests for working press, photo and broadcast credentials for Armada FC matches should be e-mailed to Communications Manager Ryan Lobato (rlobato@armadafc.com). Requests for credentials should be made at least 48 hours prior to each match. The Armada FC Communications Department will review each application and individuals will receive an e-mail notification following that review. Credentials will be granted to accredited media only. Spouses, children and guests are not permitted in the press box at Community First Park at the Baseball Grounds of Jacksonville. Please note that in the event of heavy demand for credentials for a particular match, requests will be prioritized according to published circulation numbers. Media agencies violating this policy will not be issued credentials for future matches.
Photographers are not permitted to shoot from either sideline during the match.
Credentials can be picked up at the Media Will Call/Entrance off E. Adams Street. The Media Will Call/Entrance will open two hours prior to kickoff.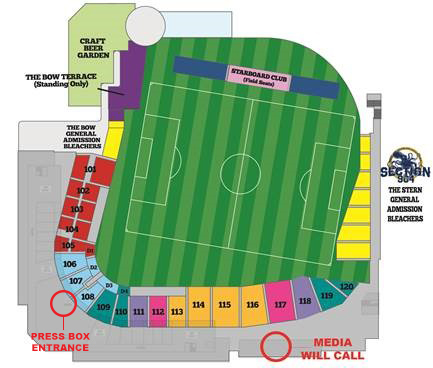 Parking
Media parking is located in Lot M. Parking passes should be requested at the same time match-day working credentials are requested. If time permits (at least five working days), both credential and parking pass will be mailed. Those who request parking passes the week of the match must pick them up by 5 p.m. Friday at the Armada FC Office (1 Independent Dr. #3131, Jacksonville, FL 32202).