Broadcast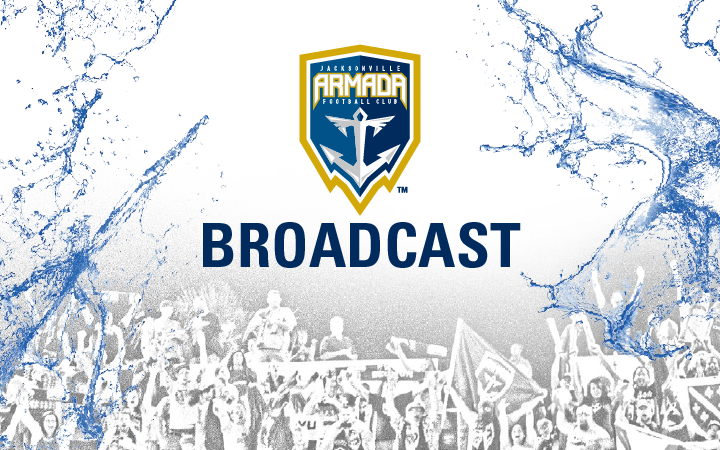 The Jacksonville Armada FC and WJXT have entered into a partnership to broadcast Armada FC weekend home matches in the 2017 North American Soccer League season on THIS TV.
THIS TV is free over the air on channel 4.2 and Comcast 231 in Jacksonville.
Cole Pepper returns as play-by-play man for the Armada for the third season. Mauricio Ruiz, the head men's soccer coach at Jacksonville University, and Episcopal School athletic director Andy Kidd, a former college star at Furman, will join Pepper as color analysts. Armada senior vice president of marketing Jo Shepherd serves as sideline reporter.
THIS TV will air all weekend home matches. Wednesday home matches will air on beIN Sports as part of the NASL's national television partnership. All matches will stream live on ESPN3.
All Armada FC broadcasts and programming is brought to you by proud Armada production partner Gemstone Media Inc.
Jul 1, 7:00 pm
HOME

FC Edmonton
Regular Season | Hodges Stadium
Jul 8, 7:30 pm
AWAY

Puerto Rico FC
Regular Season | Estadio Juan Ramon Loubriel
Jul 15, 6:30 pm
AWAY

Indy Eleven
Regular Season | Michael A. Carroll Stadium
Jul 30, 6:00 pm
HOME

San Francisco Deltas
Regular Season | Hodges Stadium
Aug 5, 7:30 pm
AWAY

Puerto Rico FC
Regular Season | Estadio Juan Ramon Loubriel
Aug 12, 7:30 pm
AWAY

North Carolina FC
Regular Season | Sahlen's Stadium at WakeMed Soccer Park 
Aug 16, 6:30 pm
HOME

Puerto Rico FC
Regular Season | Hodges Stadium
Aug 20, 6:00 pm
HOME

Miami FC
Regular Season | Hodges Stadium
Aug 26, 7:30 pm
AWAY

Indy Eleven
Regular Season | Michael A. Carroll Stadium
Sep 3, 7:30 pm
AWAY

New York Cosmos
Regular Season | MCU Park
Sep 9, 7:00 pm
HOME

Indy Eleven
Regular Season | Hodges Stadium
Sep 17, 5:00 pm
AWAY

New York Cosmos
Regular Season | MCU Park
Sep 24, 4:00 pm
HOME

Miami FC
Regular Season | Hodges Stadium
Oct 1, 6:00 pm
AWAY

Miami FC
Regular Season | Riccardo Silva Stadium
Oct 6, 9:00 pm
AWAY

FC Edmonton
Regular Season | Clarke Stadium
Oct 13, 7:30 pm
HOME

North Carolina FC
Regular Season | Hodges Stadium
Oct 18, 6:30 pm
HOME

FC Edmonton
Regular Season | Hodges Stadium
Oct 22, 4:00 pm
HOME

New York Cosmos
Regular Season | Hodges Stadium
Oct 28, 10:00 pm
AWAY

San Francisco Deltas
Regular Season | Kezar Stadium